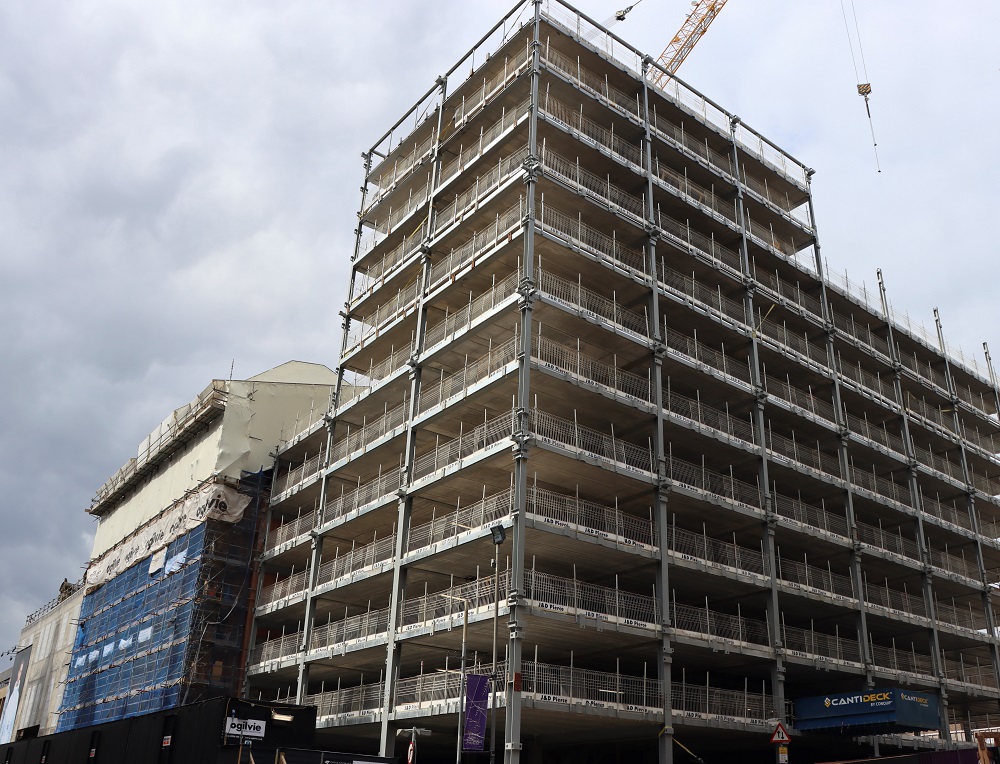 Ogilvie Construction has passed a major milestone in the building programme for the new AC by Marriott hotel in Glasgow, completing the structural steel framework.
The 245-bed hotel, being built by Ogilvie for the Chris Stewart Group, will form part of a £100 million mixed use development to transform the north east corner of George Square.  It will incorporate the refurbished grade A listed Parish Halls alongside the new build section.
Concrete floors were laid as the steel frame was erected and the next phase of the build will see the application of precast panels for the façade, along with roof works, windows and internal partitions.  The hotel is due for completion in mid 2022.
The development will fill an 80 year old gap site in the city, bringing style, elegance and all the associated amenities to create a first class experience for business and leisure guests.
Donald MacDonald, Managing Director, Ogilvie Construction, said:
"Despite the challenges of the COVID 19 pandemic the on-site team has made excellent progress in driving forward the construction programme and we look forward to continuing momentum through the remaining project phases to deliver a new high-quality facility in the heart of the city."
Tim Currie, Project Director, Chris Stewart Group (CSG), added: "Seeing the building take shape is extremely satisfying. This is a major development, which has needed careful planning through the disruption caused by the pandemic. We're delighted that the project is on course to open to welcome visitors to Glasgow next year."
The new hotel is the first stage in the realisation of CSG's vision to deliver an experience and lifestyle-led destination in the heart of the city, skirting the Merchant City and Queen Street station.
Ogilvie Construction is part of the Ogilvie Group, one of Scotland's most consistently successful family owned businesses.  The company is over 65 years old and employs more than 600 people across its various business operations.